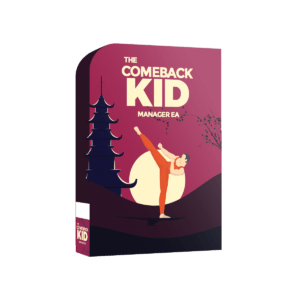 The Comeback Kid Manager EA
The Comeback Kid Manager EA is half EA and half trade manager. It's able to keep the trader profitable on complete  auto-pilot. You can use the onscreen buttons to intervene with the EA to achieve a creative manual/algo collaboration. It's also capable of recovering losing trades by managing them into a small profit or break even. The user has a lot of control on how and when they would like to increase profit on good trades and recover bad or losing trades. 
We've been trading the forex market for over 16 years and realize just how random it can actually be. Knowing this, we've developed what we think are some of the best money management techniques to get you profiting long-term in trading.
The Comeback Kid manager EA is capable of running on complete auto-pilot. No need to use the trade buttons. Still, the EA was meant to be intervened with as we think it's the absolute best way to trade.
The auto-trading function already gives the trader and edge. Intervening can give a further edge on top of that. So we should be working with a double trading edge which is hard to find.
We're combing a good auto-trade EA with excellent manual trading features. This in turn should be more powerful than anything RFT has ever created!
The better the trader, the more profit and less drawdown he/she will have using The Comeback Kid. The less bad trades you make, the less the EA needs to work to recover the trades that run against you. 
Our default settings take really low risk on each position to insure lower DD on recovery cycles. We use trailing stops to give our single trades as much profit as possible. We like to use The Comeback Kid EA on 6 forex pairs and gold to bring our estimated profit to 5-10% a month. 
30 days money back guarantee 
Up Close With The Comeback Kid EA
Run-down of The Comeback Kid EA
The Comeback Kid EA was created as an "all the trader needs" trading package! It was developed as a tool to further improve our own personal trading and ability. 
We saw a big lack of available trading tools that included single and multi-order trading. We think multi-order trading is one of the best ways to trade the market because it gives the trader more chances to profit while being wrong on direction.
We have specialized in trading the forex market for 16 years. Most traders don't realize, this market is largely random making it VERY difficult to profit over the long-term. This is why multi-order trading at different prices is a huge asset! 
The Comeback Kid Manger EA targets the trader looking to profit more while getting their life back by spending less time staring at the charts.
Average Monthly Profit Potential
12 Month Profit potential
How Does The Comeback Kid EA work?
Can trade the fantastic 5 indicator system shown on complete auto-pilot
Has the ability to use an averaging-in flex-grid system focused around key S/R resistance points to recover bad/losing trades. It doesn't blindly take grid positions. It takes them when price is most likely to move in your favor!  In our opinion, this is the best way to work a grid system.
Includes a fantastic trend trading system that gives you great entry's after the trend has a pullback
Scan your charts 5-10 minutes a day for possible entries. After you take your trade/trades, the EA will handle the rest. It has the ability to close each trade or group of trades in profit/loss based on preference. 
The ability to use single order, multi-order, flex-grid trading money management
30 days money back guarantee 
The Comeback Kid EA has been available for about a month as at the date of this review. Over this period I have run the EA on a $25k MT5 demo account using the auto trade function with default settings on 10 currency pairs (EURUSD, GBPUSD, USDJPY, USDCAD, AUDUSD, EURJPY, AUDJPY, EURAUD, EURCAD, GBPJPY). Even though improvements may be achieved through the provision of specific set files in the future, the default settings on one hour charts with only the Aroon and Kalman indicators activated were extremely profitable. The return for the month was 7% and the drawdown during the month was under 3%. As it stands I have no hesitation in giving the Comeback Kid a high five star recommendation. Great work.
Once you get your head around the EA management and how to use the EA this will be the best purchase of your life. The EA manages any manual trade made with the EA buttons and will automatically finish it off if you are busy or it will go full auto. Incredible EA, I have brought every EA Ryan has released, They are all fantastic but this thing is on another level. Ryan is a great pleasure to work with and i will continue to be apart of his growing group. Thanks Ryan!!
This EA is amazing! I am a new trader with only 6 month experience. Of course I made a lot of bad trades, however the CBK help me many times to get out of the trades at 0.1% profit or BE. My starting capital is small, so probably the amount is negligible. When Ryan upgraded the CBK to ver 1.4, its even better! He added 2 more indicators to help new trader like me improve, both in analysis and confident. Don't have enough time? Leave it as is for it has an auto-trade function!Z Thanks a lot Ryan!!
Certainly one of the most sophisticated EAs that I have ever come across since I started trading bots, and I tried 100's of them 🙂 It is expensive, YET, it is worth every single penny. And Above all, Ryan the author of the EA is one of the most responsible and supportive EA authors I have ever seen. I would 10000% recommend this EA. Why it that? 1) It can auto trade if you want to have a set and forget feature. 2) You can use it as a trade management tool, that has so so so many features, that is not in any other EA. 3) You can combine manual and automated trading at the same time. 4) You can hedge using it while maintaining two separate baskets, or you can combine the sell and buy baskets and the EA will close at profit or break-even, depends on the user settings. 5) It has a very effective console, that helps users interact with the charts at a click of a button. 6) Ryan hosts a very interactive and enriching community on discord, and he is always, and I mean always responsive, and supportive. Try it, and you won't regret it
I can highly recommend this EA because of multiple reasons: = Trades on auto-pilot for people who do not have the time to trade = Can help you to manage your manual trades (Take profit, stop loss, advanced grid options, martingale,...) = There is a Discord group where you can have direct contact with other customers and the creator of the EA (Hi Ryan, I know you'll read this someday:=)) in case you need support, or just want to chat a bit :=)
Includes one of the best 5 indicator trading systems available to show you where the market is likely headed
Gives you EVERYTHING you need to be a profitable trader
Can be used as a fully functioning EA, a trade manager, or both! Endless control to give you the trading edge you need
21 year successful backtesting on 7 trading pairs! EURUSD, GBPSD, USDJPY, AUDUSD, USDCAD, USDCHF, XAUUSD
Can be used to multi-order, grid trade, or single order trade. The possibilities are endless!
Helps recover bad/losing trades using smart multi-order risk management
Can turn just about any trader, good or bad into a profitable one using tried and tested money management techniques.
Flexible EA settings to accommodate any trader
Our default conservative risk settings can bring in an estimated profit of 3-5% a month using our recommended 7 trading pairs
At least 50:1 leverage is recommended
At least a $3k balance is recommended
30 days money back guarantee