The Comeback Kid Manager EA
The Comeback Kid Manager EA is half EA and half trade manager. It's able to keep the trader profitable on complete  auto-pilot. You can use the onscreen buttons to intervene with the EA to achieve a creative manual/algo collaboration. It's also capable of recovering losing trades by managing them into a small profit or break even. The user has a lot of control on how and when they would like to increase profit on good trades and recover bad or losing trades. 
We've been trading the forex market for over 16 years and realize just how random it can actually be. Knowing this, we've developed what we think are some of the best money management techniques to get you profiting long-term in trading.
The Comeback Kid manager EA is capable of running on complete auto-pilot. No need to use the trade buttons. Still, the EA was meant to be intervened with as we think it's the absolute best way to trade.
The auto-trading function already gives the trader and edge. Intervening can give a further edge on top of that. So we should be working with a double trading edge which is hard to find.
We're combing a good auto-trade EA with excellent manual trading features. This in turn should be more powerful than anything RFT has ever created!
The better the trader, the more profit and less drawdown he/she will have using The Comeback Kid. The less bad trades you make, the less the EA needs to work to recover the trades that run against you. 
Our default settings take really low risk on each position to insure lower DD on recovery cycles. We use trailing stops to give our single trades as much profit as possible. We like to use The Comeback Kid EA on 6 forex pairs and gold to bring our estimated profit to 5-10% a month. 
Up Close With The Comeback Kid EA
Run-down of The Comeback Kid EA
The Comeback Kid EA was created as an "all the trader needs" trading package! It was developed as a tool to further improve our own personal trading and ability. 
We saw a big lack of available trading tools that included single and multi-order trading. We think multi-order trading is one of the best ways to trade the market because it gives the trader more chances to profit while being wrong on direction.
We have specialized in trading the forex market for 16 years. Most traders don't realize, this market is largely random making it VERY difficult to profit over the long-term. This is why multi-order trading at different prices is a huge asset! 
The Comeback Kid Manger EA targets the trader looking to profit more while getting their life back by spending less time staring at the charts.
Average Monthly Profit Potential
12 Month Profit potential
How Does The Comeback Kid EA work?
Can trade the fantastic 5 indicator system shown on complete auto-pilot
Has the ability to use an averaging-in flex-grid system focused around key S/R resistance points to recover bad/losing trades. It doesn't blindly take grid positions. It takes them when price is most likely to move in your favor!  In our opinion, this is the best way to work a grid system.
Includes a fantastic trend trading system that gives you great entry's after the trend has a pullback
Scan your charts 5-10 minutes a day for possible entries. After you take your trade/trades, the EA will handle the rest. It has the ability to close each trade or group of trades in profit/loss based on preference. 
The ability to use single order, multi-order, flex-grid trading money management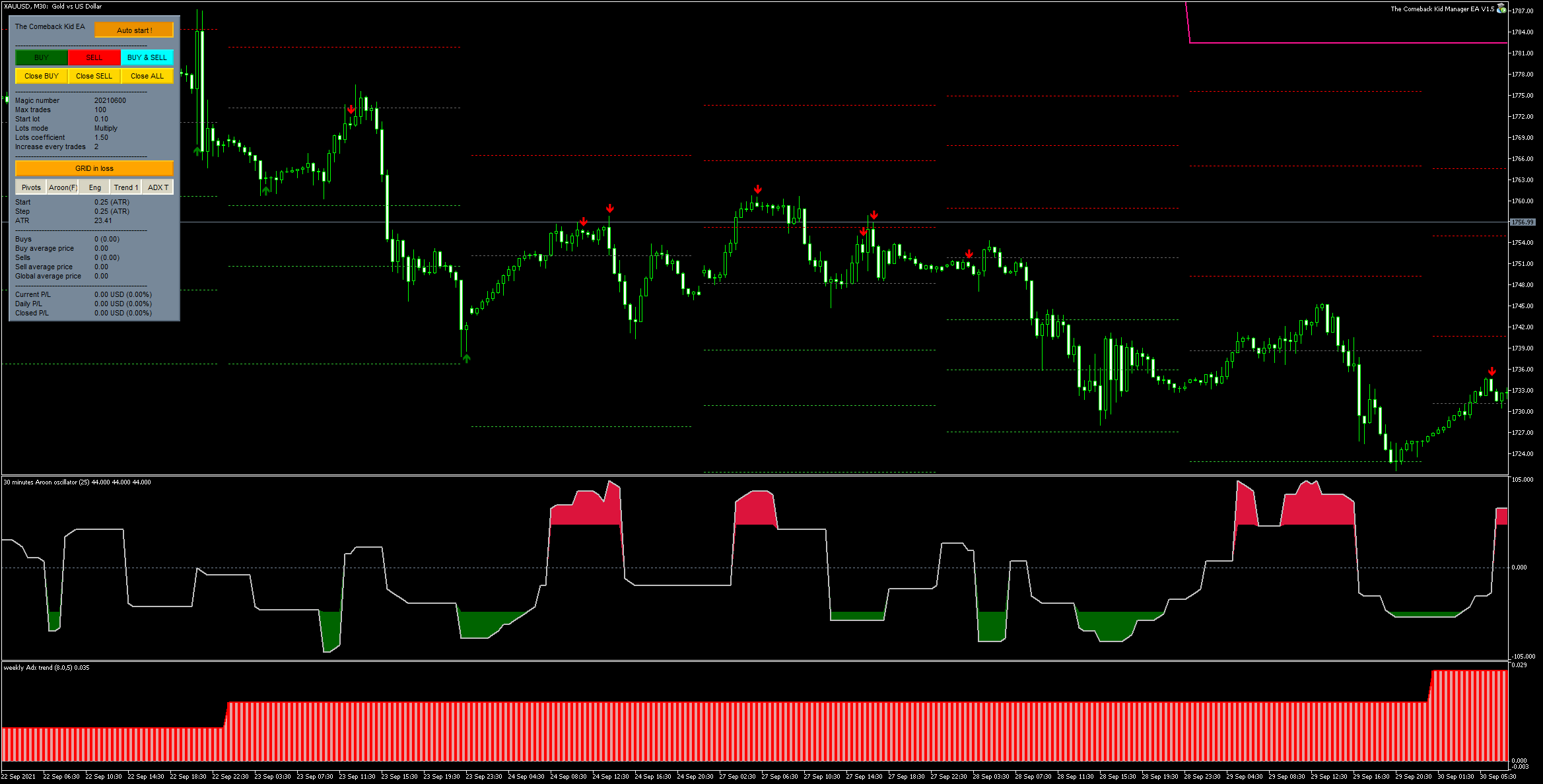 Includes one of the best 5 indicator trading systems available to show you where the market is likely headed
Gives you EVERYTHING you need to be a profitable trader
Can be used as a fully functioning EA, a trade manager, or both! Endless control to give you the trading edge you need
21 year successful backtesting on 7 trading pairs! EURUSD, GBPSD, USDJPY, AUDUSD, USDCAD, USDCHF, XAUUSD
Can be used to multi-order, grid trade, or single order trade. The possibilities are endless!
Helps recover bad/losing trades using smart multi-order risk management
Can turn just about any trader, good or bad into a profitable one using tried and tested money management techniques.
Flexible EA settings to accommodate any trader
Our default conservative risk settings can bring in an estimated profit of 3-5% a month using our recommended 7 trading pairs

 

At least 50:1 leverage is recommended
At least a $3k balance is recommended